This is a multi-part series that is a slightly modified version of my MSc Dissertation.
Here is Part One, Part Two & Part Three.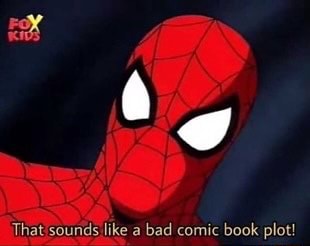 'I Really, Really Hate Clones' S05 E12 – Spider-Man (1994)
With Spider-Man: No Way Home being the first explicit example within the MCU to incorporate the Multiverse in action, we have to look at what the multiverse is in the context of the Spider-Man IP, specifically an on-screen (brief) history. We will also use a cinematic example outside the MCU to help define the multiverse; and then proceed to explore how the multiverse in this context is an example of transmedia and convergence.
The above quote is taken from the penultimate episode of the animated Spider-Man show that ran on FOX Kids from 1994 to 1998. Running for 5 seasons and 65 episodes, the show dealt with many aspects of the Spider-Man IP, had 'crossovers' with the other animated Marvel shows of the era such as Iron Man, Fantastic Four and X-Men, and helped introduce audiences to many other Marvel characters like Doctor Strange, Captain America and The Punisher.